Here to help: New DeployBot Assistant
We're always happy to receive feedback from you – thanks for helping us to improve DeployBot. Some of you have pointed out that the DeployBot assistant isn't that useful on smaller displays and sometimes even leaves the screen. We've put some work into the little bot and present: the new and context-sensitive DeployBot assistant!
Last year in January, we introduced our new DeployBot assistant. When connecting a new repository, the little robot pops up next to the configuration dialog and gives useful hints and background information. The DeployBot assistant guides you through the entire process of connecting a GitHub, Bitbucket or GitLab repository. It is by your side when you choose a hosting service, connect an account (with admin privileges), choose a repository, a title and a color.
So far, the assistant lived in the website's margin – not the perfect place: if the browser window was too small, the little helper bot was only half visible. Sometimes the poor fella was cropped or kicked out of the screen entirely. So we've improved its living conditions and invited it to stay inside the website. The DeployBot assistant now displays its advice inside the configuration dialog, white font on a purple background.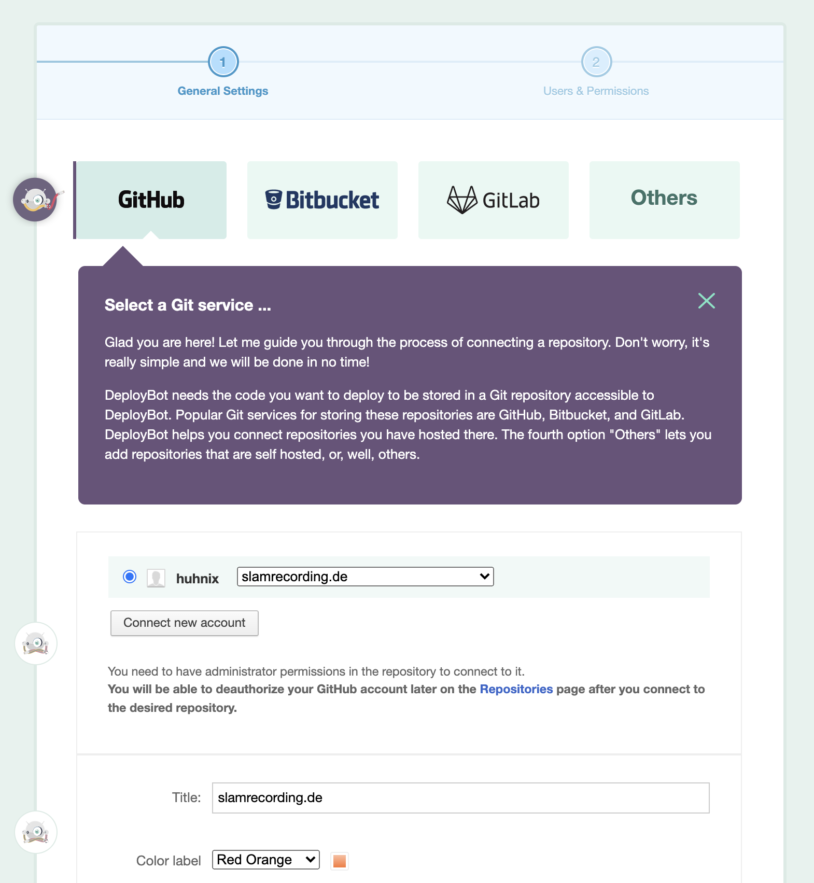 We've also sent it to a workshop and taught the assistant some new things. The messages previously shown in the sidebar, have been fed to the DeployBot assistant, so everything is in one place now.
Now, if you're an experienced DeployBot user, you probably don't need the assistant – no worries, simply click on the little bot and it will stop bothering you.